How to check website traffic free online? Or do you want to know the best website traffic checker? With this article, I will review the top website traffic checker services or website traffic estimator.
How well your rival's websites are performing? Are they driving more traffic than your site? Are they competing for different keywords than you?
Unless your rival has a page that shows their site statistics, we have to depend on top website traffic checkers services.
Fortunately, there is a couple of sites that can do this and for free.
If you are using them correctly, these tools can assist you in getting free website traffic by checking out what your rivals strength and weak points are.
So let's go and learn the best website traffic checker, aka, website traffic estimator.
1. SEMrush – Website Traffic Estimator
SEMrush is a software as a service that sells online visibility and marketing analytics. Traffic Analytics is the latest released tool. You can either analyze your site or even compare the data with your rivals. It provides traffic volume & information on your website or others.
Check Site Visitors By Subdomain
Discover the best performing subdomains of analyzed websites
Top Landing Pages
Find out and reveal the top pages of your site or competitors in seconds.
Traffic By Device
You can evaluate and compare the site's visitors engagement by device type, excellent stuff to research your audience.
Traffic By Countries
Here you can analyze how your rival does in different countries and then find out which ones you want to target to get their traffic.
Visitor Behavior
You can get information about visits, unique visitors, pages/visit, avg visit duration, bounce rate and even analyze where they go after visiting the website.

Verdict
SEMrush can assist you learn everything needed to conquer your industry.
⬇️ FREE GIVEAWAY ⬇️
7 Day Trial of PRO subscription + Traffic Analytics
Cancel At Any Time!
2. Similar Web – Website Traffic Checker
Similar Web assists you get complete data from many websites and provides you with a detailed traffic overview of how a website performing.
Similar Web split down the information into biteable chunks which makes the whole process fast. They also provide a paid membership service starting from $200 to $800 per month.
Referrals
A simple to read infographics of the top referring websites also included in the top sites that leave Similar Web.
Search Traffic
Search Traffic is the main section for many webmasters. You can learn the keywords your rival is targeting, the organic traffic and PPC visits.
Display Advertising
If your rival is using display ads, you can get the information here. And then using the data to create your plan.
Audience
You can research the audience interest from your competitor sites. And by using the data, you can create a plan to bring them to your site.
Verdict
Similar Web gives a lot of robust information that you can take away to analyze your rival's website. Becoming a PRO member will provide you with even more data and let you check multiple sites at once.
3. Quantcast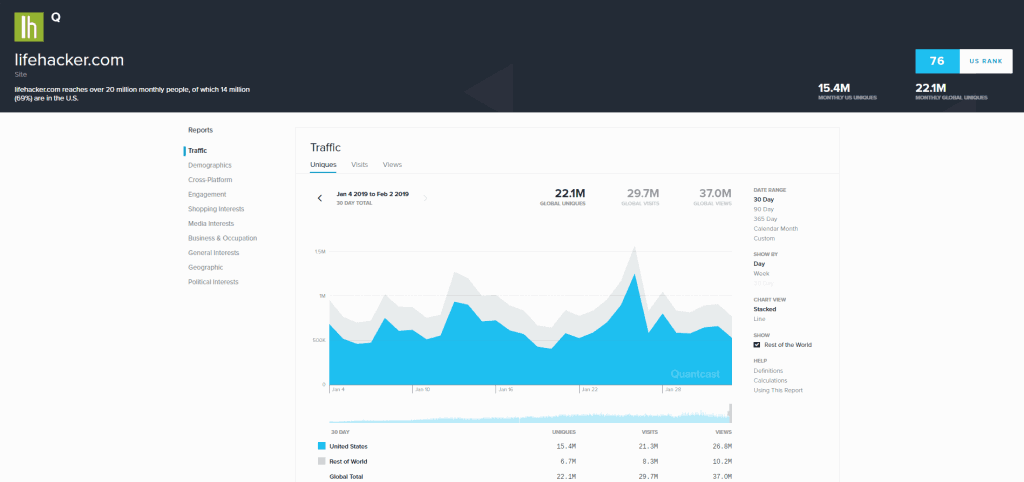 Quantcast's primary goal is to supply the behaviour information from the visitors on a website. They can analyze things like sex, visit duration and their frequency on specific pages and the visitor's age. One of the advantages you can use from Quantcast is that you can monitor information in real-time, this is a powerful tool as you can track changes that you may make on your website and see the difference.
Quantcast needs that you sign up and place a tracking code on your site to gather its data. It's worth the investment, especially for webmasters who run ads campaigns and want to learn more about the type of visitors from the website you will be running ADS.
Demographics
This data is gold when running ads on a website, and here we can discover that Lifehacker is popular with young Asian dads who are educated and earn a good income.
Cross-Platform
Do you want to run desktop ads on Lifehacker? You may want to use mobile ads only because we can find out over 75% of Lifehacker visitors are using their mobile phone.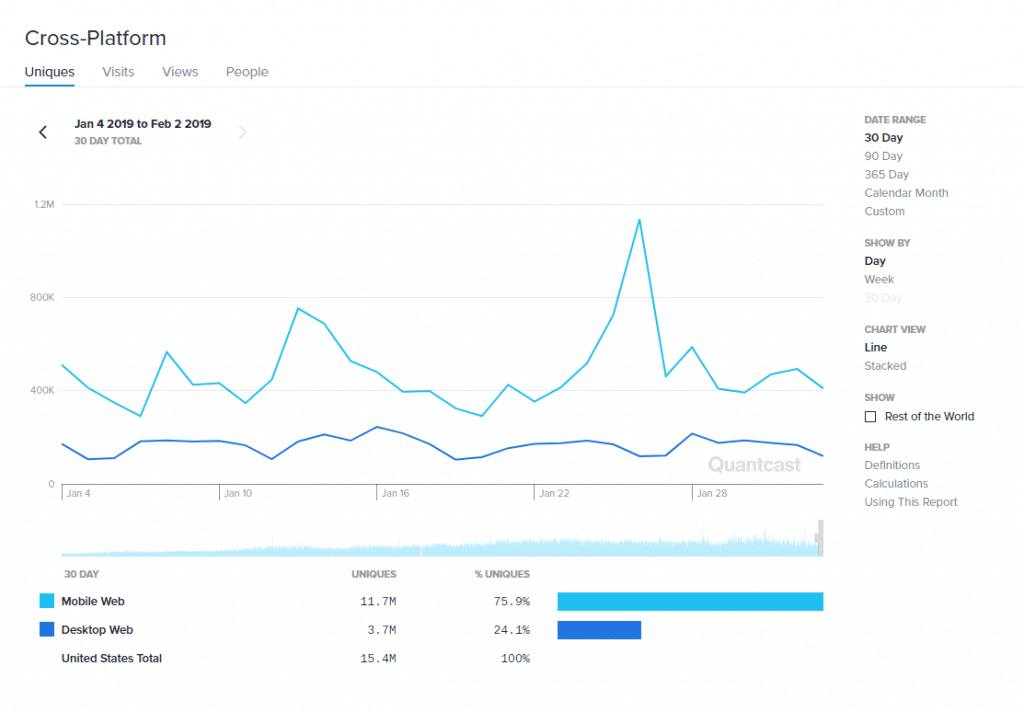 Engagement
Quantcast breaks down the information even better by providing us how engaged each visitor is.
Shopping Interests
Here we can learn about the shopping habits from the visitors of Lifehacker, currently viewing the retail purchase affinity report.
Media Interests
Media interest information can be splited up further by streaming devices, movies, music & entertainment.
Business & Occupation
Discover which industry your visitors are working in, their occupation and attributes.
General Interests
One of the best reports you can get from Quantcast. Here you can discover what visitors like and which sites they have visited.
Geographic
You can break the data down further into countries and cities.
Top countries visiting lifehacker, can break this data down further into cities.
Verdict
Quantcast is a must have tool for website owners looking to get advantages on the competition. Even if you don't have your own website but do affiliate marketing and buy website traffic you should use this if you want to get sales from those impressions.
4. Alexa Website Traffic Checker
The first website traffic estimator software, Alexa, had been founded in 1996. In the beginning, Alexa assist their users find competitor sites by using a toolbar installed on the web browser.
This toolbar let Alexa the possibility to read and archive a lot of websites and visitor browsing datas.
Alexa has been taken over in terms of features by websites providing more information for free. Now, you can check out the visitor location, engagements, keywords, bounce rate and backlinks. The membership gives you more access to data starting at $149.
Alexa Rank
Here we have a first look at the Alexa rank over the past 12 months and the sites global and local rank.

Geography
The top five countries that visit Lifehacker. If we measure Alexa Quantcast information, we can notice the prime four positions are similar.
Engagement
Alexa looks simple with just three data points, page views per visitor, average time on site and bounce rate.
Search Traffic
I would take Alexa data with a ton of salt. We can check out the top keywords are very generic and most likely incorrect.
Backlinks
The data is free ,so I guess we shouldn't complain, but the "top" five backlinks for Lifehacker are rather lacklustre.
Verdict
It was once a great tool but has seen a big decline in what it offers for free. Alexa pro starts at a price $149; you could get a lot more relevant data from a platform such as Ahrefs or SEMrush.
5. Check website traffic free online with Traffic Estimate
A simple website traffic checker free that gives out the necessary information on any site. It seems to collect data by combining other sources and spitting out the results. The traffic pulled for Lifehacker appears to be on the low side, and the top "keywords" seem to be irregular.
Keywords
Verdict
It's free to use and needs a few seconds to run a competitor analysis, the chance of finding any data the others haven't? slim
Final Thought on How To Check Website Traffic For Free
I must accept I assumed SEMrush would still be on #1, but after seeing what Similar Web has to offer its clear, they are the champion in terms of accessibility and information. Not only is the service free to access its also accurate*.
Getting a rough estimate of another website's traffic in your niche can help you increase traffic and dominate, something every company should monitor.
It makes me wonder whats going on with Alexa internet? Being owned by amazon, I thought they would be displaying much more information. Do they not have access to amazon shoppers, fire, kindle and the hugely successful amazon echo owners.
⬇️ FREE GIVEAWAY ⬇️
7 Day Trial of PRO subscription + Traffic Analytics
Cancel At Any Time!